Hair Simulation
If you're planning on getting a Hair Simulation treatment in Turkey, your journey should take around 4 days (approximately 3 nights). However, if you have time constraints, we can arrange for a shorter trip of 1-2 nights. Just let us know in advance. We also offer weekend transplantation for those arriving on Friday and returning on Sunday. During your visit to Cayra Clinic in Turkey, we will provide you with all the necessary booking documents, flight tickets (if we are booking for you), and a detailed travel plan. Rest assured that our team is always available to assist you every step of the way.
What Is Hair Simulation In Turkey?
Hair simulation in Turkey is a non-surgical alopecia baldness removal method. In this method, real hair follicles and hair structures are imitated by applying epidermal micropigmentation to bald areas. Hair simulation in Turkey is definitely not a hair transplant method. However, it can give very good results when used as a complementary method after hair transplantation. The most successful results are generally seen in people with very short hair structure. It is also very effective in solving regional hair problems such as ringworm. If the desired density cannot be achieved due to the insufficient donor area in hair transplantation, hair simulation in Turkey helps to achieve a more dense appearance.
The duration of the hair simulation in Turkey application completely depends on the size of the hair opening. The smallest openings take 30 minutes, while the largest openings or complete tightening can take up to 5 hours. However, 1 week after the hair simulation process, a little retouching will give healthier results after the pigments settle completely.
Hair simulation process is done with different special devices than tattoo devices. It should be worked with personal and disposable sterile needles and in a sterile environment. The sterility of the environment should not be different from hair transplantation. Hair simulation in Turkey process can be applied after hair transplantation, as well as hair transplantation can be done in a simulated area.
What Are The Major Facts To Note About Hair Simulation In Turkey?
Dye used in this procedure has no negative effects on health. But, patients are asked to have allergy test.
Before this procedure, local anesthesia is applied to application area.
Hair simulation method is non-surgical and this method is applied by experts in sterile environment by using special needles.
There can be mild swelling in the first couple of days. Crusting can occur in the first week. Patients should avoid touching this crusting.
Application area should be kept away from water contact for 3 days to prevent infection risk.
Patients should avoid sauna and solarium for 1 month after the procedure.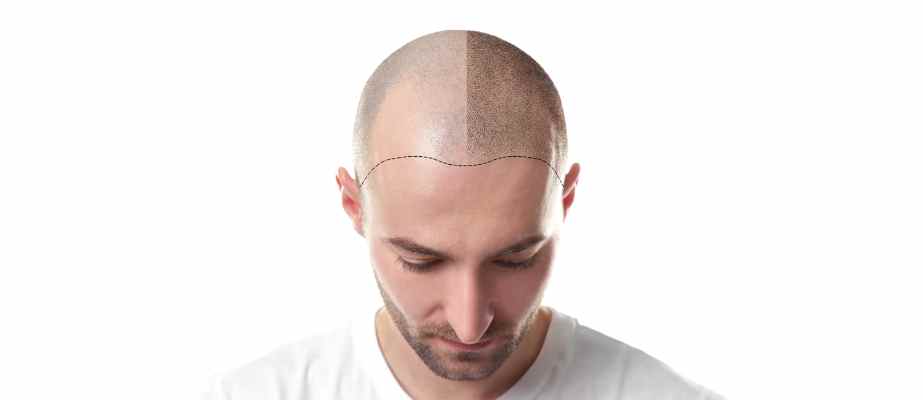 How Does Hair Simulation In Turkey Work?
Hair simulation in Turkey is a hair effect procedure that is used to generate a natural hair appearance with 3d micropigmentation for those who have problems with their hair for various causes. With an electric special instrument and organic scalp pigments, micropigmentation is applied to the scalp. Hair simulation is not a surgical treatment or surgery, contrary to popular misconception.
Tattoo technique and colors cannot be used to simulate hair. Because tattooing is a method that involves applying synthetic colors to the deeper layers of the skin and it is possible for the pigments to disperse between the layers of the skin, leaving dark spots. Also , it also carries the possibility of changing the color tone. For example, colors that are black can turn green or blue. Such situations are completely unusual in hair pigmentation, that is, hair simulation in Turkey.
Is Hair Transplantation Possible Following Hair Simulation In Turkey?
Of sure, it's possible. Hair simulation in Turkey is not hindered by either hair simulation or hair transplantation. Furthermore, the hair simulation in Turkey procedure does not result in the transplanted hair falling out. Many people choose hair simulation or hair shading to hair transplantation because they don't obtain the results they want. Hair simulation clarifies and strengthens the appearance gained by hair transplantation. Hair simulation in Turkey is easier to apply and get results than hair transplantation, which is a costly and time-consuming procedure. The appearance of the reversal process is enhanced by the hair simulation in Turkey.
What Is The Cost Of Hair Simulation In Turkey?
Of course, this type of procedure will cost you a bit of a grip. But sometimes, you've got to pay a little extra in order to get amazing results. Both types of hair simulation in Turkey can range in price from $1000 to $2500 depending on the practitioner performing the procedure and the number of hair follicles that need to be harvested.
How Long Does Hair Simulation In Turkey Take?
It is the process of applying specially designed dyes to the scalp region in the form of tiny effects with specially designed techno devices. It is known as hair tattoo, hair micropigmentation, hair simulation in Turkey. It is finished in 3 to 5 hours depending on the facial measurements of the area to be hair simulated. It is not a surgical operation; people can turn back to their jobs after the procedure. In order not to be in pain during the operation, the region is numbed with anesthetic creams. Hair simulation in Turkey, depending on the person's skin structure, can be used up to 3-4 years.
Are There Complications Of Hair Simulation In Turkey?
Although hair simulation in Turkey is a relatively low-risk procedure, the side-effect most concerning to patients is something called "shock loss," a temporary thinning of the pre-existing hair caused by the micro-trauma of having tiny incisions made between the existing hairs. "while the hairs do grow back in, about 10 to 20 percent may go through a new cycle, falling out temporarily, before growing back in. This can last for a few weeks following the procedure, and the positive impact of the hair simulation in Turkey can be appreciated about six months after the procedure and thereafter. This is not a thing to worry about.
Is Hair Simulation In Turkey Permanent?
After the hair simulation in Turkey procedure, the patient can return to his daily life completely. In addition, unlike hair transplantation, the hair can be washed with a warm shower on the same day. Its permanence can be up to 3 years in direct proportion to the quality of the pigment materials used. Pigments of this quality are also completely biological and do not cause any harm to human health. Hair simulation in Turkey can look completely natural as long as you go to the right surgeon.
Hair transplant candidates may be concerned about the conspicuousness of their results, but with a talented and qualified surgeon, "your scalp will not look like a doll's head. When performed by a credible physician, the results should not be too obvious," fusco says. Technically, any physician can perform a hair transplant, so when looking for that credible physician, it's wise to seek out someone with extensive surgical hair transplant experience.
Who Should Not Have Hair Simulation In Turkey?
For those experiencing hair loss, hair simulation in Turkey offers a permanent solution that delivers natural looking and feeling results for men and women alike. However, not everyone is a candidate for this procedure, and for a variety of reasons. Below are the kinds of people suitable for hair simulation in Turkey:
Those who have no hair from birth. Because a hair transplant is performed by taking hair follicles from one part of the scalp and transplanting them to another, those who have not had hair since birth are not candidates for hair simulation in Turkey.
Those under 24 years of age. Most experts agree that 24 is the "recommended" minimum age for hair simulation in Turkey. That's because hair loss needs to run its course, which often extends past one's 24th birthday. A little patience can provide greatly enhanced long-term results.
Individuals with serious health complications. Although hair simulation in Turkey is a relatively simple procedure that can yield amazing results, those who have chronic health issues like heart disease, kidney or liver failure, diabetes, and more, may not be suitable for such a surgery. Consult with your primary care physician or specialist to discuss the risks involved.
Those who react to anesthesia. Anesthesia (either local or general) is required to perform hair transplant surgery. Therefore, those who suffer negative reactions to anesthesia, or have medical conditions that don't allow them to receive anesthesia, are not candidates for a hair simulation in Turkey.
Individuals with blood-borne illness. Those with blood-borne diseases such as hiv and hepatitis c are generally not candidates for hair simulation in Turkey. Consult your primary care doctor about the limitations and risks involved and precautions that are available to keep all parties safe.
Patients with hemophilia. Hemophilia is a condition that limits the ability of blood to clot. As such, a patient with hemophilia must first consult with their doctor and undergo a blood clotting test to see if they are suitable for hair simulation in Turkey.
Are you a candidate for hair transplant surgery? The best way to find out is to schedule a free initial consultation with the Cayra Clinic in Turkey for proper guideline.
Frequently Asked Questions
Is hair simulation in Turkey a painful procedure?
Before the hair simulation process in Turkey, the scalp is anesthetized with local anesthetic creams specially produced for this job. However, depending on the sensitivity of the person's scalp, some pain may be felt.
Can hair transplant be done again after hair simulation in Turkey?
Yes, hair simulation is not an obstacle to hair transplantation. In addition, the hair simulation process does not cause shedding in the transplanted hair.
Can I take a bath on the same day after the hair simulation in Turkey procedure?
There is no harm in taking a bath with warm water.
What kind of problems can a person who has done hair simulation in Turkey experience after the procedure?
A slight swelling may occur on your scalp for the first 1-2 days after hair simulation in Turkey. In 1 week, crusting and shedding may occur at the application sites. These shells should definitely not be removed. It is inconvenient to stay under the direct sun or enter the solarium for 4 weeks after the application. If you are going to be under the sun, it is recommended to wear a hat.
Can Hair Simulation in Turkey be an alternative to Hair Transplant
Hair simulation in Turkey is entirely based on camouflage. Therefore, this method support hair transplant rather than being an alternative
What examinations are carried out during hair simulation in Turkey?
The best thing is to make a consultation with your doctor Cayra Clinic in Turkey. You inform him about your lifestyle, known diseases, allergies and the intake of medication. Then the scalp is examined with a demoscope. Before the hair simulation in Turkey, your doctor at Cayra Clinic in Turkey will carry out a blood test to determine deficiencies and diseases.
Can I still take coffee after hair simulation in Turkey?
Coffee drinking is not allowed on the day of hair simulation in Turkey. Coffee is already allowed the following day. Alcohol and smoking should be avoided for at least ten days after the procedure, as both increase the blood circulation and delay the healing of the wound.
Why Should I Chose Cayra Clinic In Turkey For My Hair Simulation In Turkey?
Cayra Clinic in Turkey is one of the best clinics when it comes to cosmetic surgeries and plastic surgeries. We have the best surgeons in Turkey who attend to patients at our offices in Istanbul and Antalya. Also, we have the latest technologies which have been employed by our professional surgeons to give you the best results for you hair simulation in Turkey. At Cayra Clinic in Turkey, we will make your stay in Turkey a worthwhile experience by visiting the best places in Turkey after your hair simulation. Schedule an appointment with Cayra Clinic in Turkey now and you will be glad at the end.