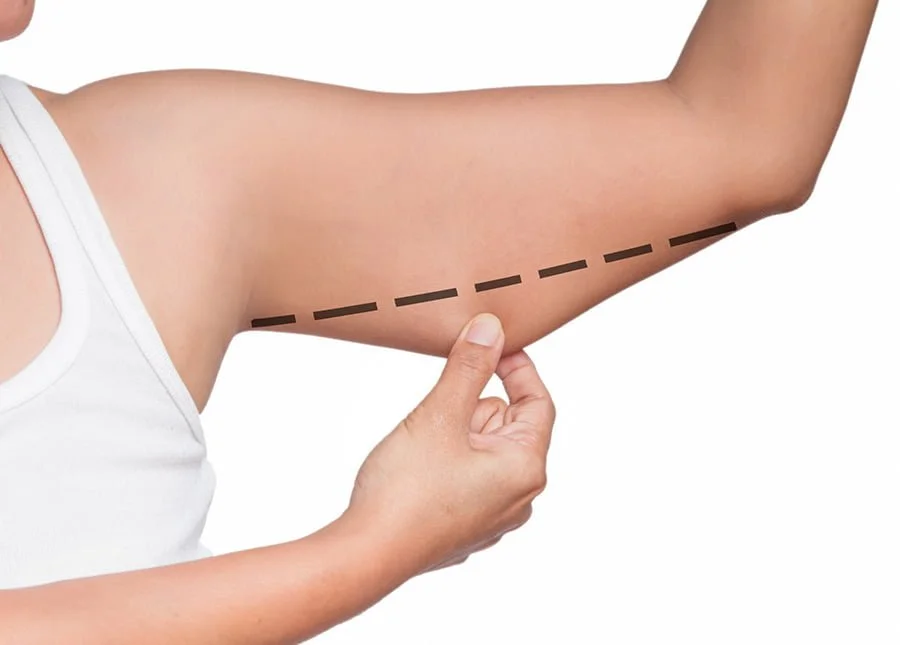 Arm Lift Surgery
Arm Lift Surgery, also known as brachioplasty, is a cosmetic procedure to enhance the appearance of the upper arms by removing excess skin and fat. This procedure is performed in Turkey at Cayra Clinic, where the remaining skin is repositioned to create a more toned and youthful look. As people age or experience fluctuations in weight, the skin of their upper arms can become saggy and undesirable. That's why arm lift surgery in Turkey has become one of the most popular cosmetic surgeries, allowing individuals to achieve the best results at affordable prices. Contact Cayra Clinic today to schedule your arm lift surgery and achieve the toned and youthful appearance you desire.
The average cost of arm lift surgery in Turkey is 2050 USD which is a cheap option compared to abroad. (if you want to compare the price of arm lift in different countries, you can find it in this blog.) Also, some clinics offer accommodation and transportation as a package.
Here at Cayra Clinic in Turkey, you can find out and discover getting arm lift surgery in Istanbul and Antalya, Turkey, brachioplasty costs, our clinic's patients reviews, before & after photos from the best doctors plus all-inclusive packages for a mini arm lift, full arm lift, and extended arm lift surgeries.
Our all inclusive arm lift surgery in Turkey package includes transportation, 5 star hotel, translators, post-op follow up, all medications, preoperative tests. Cayra Clinic in Turkey is surely the best you can consider for your arm lift surgery in Turkey.
What Is Arm Lift Surgery In Turkey?
An arm lift surgery in Turkey is a procedure that removes undesirable underlying body fat and drooping skin in the arm area to regain firmness. Extra skin is removed from the arm by making incisions in the underarm or within the elbows. Also, extra weight is extracted via liposuction or through cuts if there is any. Aesthetic sutures are applied at the incision sites to give them the most natural appearance possible.
Based on the procedure to be used and the state of the area, arm lift operations can take anywhere from one to three hours. People choose arm lift surgery in Turkey because they are dissatisfied when their arm skin is lax and dragging. This is particularly obvious in the case of sleeveless clothes. When both arms are spread out, a droop at the underside of the arm like a bat wing occurs. To get rid of this situation, this type of surgery is suitable.
Who Is A Good Candidate For Arm Lift Surgery In Turkey?
An arm lift surgery in Turkey may be able to assist you boldly display your upper arms if they are drooping. People can have firmer, finer contours that suit their figure after undergoing this type of successful body sculpting surgery. Candidates for arm lift operations generally involve:
Adults with severe upper arm skin laxity
Adults of any age whose size is consistent and who are not clinically obese
Healthy people lacking chronic diseases that delay healing or raise the risks of surgery
Non-smokers
Non-alcoholics
Those who do not use drugs
Those who exercise on a regular basis and eat a healthy diet
Types Of Arm Lift Surgery In Turkey
The full arm lift surgery in Turkey procedure is performed via a surgical incision that spans from the area under the armpit to the elbow area, through which the skin is pulled and tightened, as well as liposuction of extra fat to achieve a specific and more uniform shape. Then the wound is closed.
A mini brachioplasty, also known as a minor arm lift surgery in Turkey, is better suited to patients who do not have a lot of excess skin and fat in their upper arms. The surgeon will make a single crescent-shaped incision beneath the armpit, which may also extend in a t-line into the arm, during this treatment.
Extended arm lift surgery
An extended arm lift surgery in Turkey is identical to a regular arm lift surgery, but the incision is extended from the arm down to the body to incorporate loose skin and fatty tissue that may be just under the arm area along the side of the chest wall. Loose skin in that area is frequent in patients who have lost a lot of weight.
Why Is Arm Lift Surgery In Turkey Done?
As you get older, the skin on your upper arms changes, sagging and becoming loose. Significant weight loss also can cause the undersides of your upper arms to droop. While exercise can strengthen and improve muscle tone in the upper arm, it can't address excess skin that has lost elasticity. You might choose to have an arm lift if the undersides of your upper arms are sagging. An arm lift surgery in Turkey might also boost your body image.
Procedure Of Arm Lift Surgery In Turkey
Arm lift surgery in Turkey takes from two to four hours and is performed under general anesthesia or intravenous sedation. Incisions are made either on the back or inside the arm, and excess fat is removed by liposuction or excision. Excess skin is removed, and underlying tissue is reshaped. Brachioplasty is usually sought by patients seeking to achieve a slim, toned appearance of the upper arms by removing sagging skin and excess fat. You should be healthy, at a stable weight, and ideally a nonsmoker in order to have an upper arm lifting.
How Much Does An Arm Lift Surgery Cost In Turkey?
In Turkey, the lowest price for an arm lift offered by clinics is $1000, while the highest price is $2900. It is reasonable to assume that you should have roughly $2050 in your pocket. The cost of an arm lift surgery in Turkey is determined by a number of factors and varies from clinic to clinic, depending on the doctor's experience and the technique used. When these prices are compared to clinics and other countries that offer this surgery, it is easy to see the difference Turkey provides with its international experience and medical services, as well as surgery packages that include a variety of other services in addition to the procedure such as airport transfer, translation, and more.
Risks And Complications Of Arm Lift Surgery In Turkey
An arm lift surgery in Turkey poses various risks, including:
Scarring. Incision scars from an arm lift are permanent, but are typically placed in areas that aren't easily visible. Rarely, incisions can result in raised, red scars. Injections of a corticosteroid medication or other treatments might be used to improve the appearance of scars.
Asymmetry in the shape of your arms. This could occur as a result of changes during the healing process. Also, while surgeon at Cayra Clinic in Turkey will try to make your arms look as symmetrical as possible, perfect symmetry isn't possible.
Changes in skin sensation. During an arm lift, the repositioning of your arm tissues can affect superficial sensory nerves. You'll likely feel some temporary numbness.
Problems with stitches. Stitches used to secure the arm's new shape might work their way to the surface of the skin and need to be removed. This can cause inflammation of the affected skin. As a result, you might need additional surgery.
Like any other type of major surgery, an arm lift poses a risk of bleeding, infection and an adverse reaction to anesthesia.
An arm lift surgery in Turkey isn't for everyone. Your doctor at Cayra Clinic in Turkey might caution against an arm lift if you:
Are significantly overweight
Have frequent changes in your weight
Have a medical condition that interferes with wound healing
Are a smoker
What You Can Expect From Arm Lift Surgery In Turkey
An arm lift surgery in Turkey can be done in a hospital or an outpatient surgical facility. However, Cayra Clinic in Turkey is the best medical center you can consider to get the best treatment. Sometimes the procedure is done with sedation and local anesthesia, which numbs only part of your body. In other cases, general anesthesia which renders you unconscious is recommended.
Before the procedure
Avoid certain medications. You'll likely need to avoid taking aspirin, anti-inflammatory drugs and herbal supplements, which can increase bleeding.
Arrange for help during recovery. Make plans for someone to drive you home after surgery and stay with you as you begin to recover.
During the procedure
Your surgeon at Cayra Clinic in Turkey will make incisions on the undersides of your arms. The length and pattern of the incisions depends on how much skin will be removed. After making the incisions, the your surgeon at Cayra Clinic will tighten your underlying tissues and secure them with stitches. He or she might also use a suction technique to remove fat (liposuction). Your skin will then be draped over the new contours and excess skin will be removed. Stitches or surgical tape will be used to close the incisions.
After the procedure
After an arm lift surgery in Turkey, your incisions will be covered in bandages. Your arms will be loosely wrapped in elastic bandages to minimize swelling. Small tubes might be placed in your arms to drain any excess blood or fluid.
Recovery And Postoperative Care For Arm Lift Surgery In Turkey
After arm lift surgery in Turkey rachioplasty, the arms are covered with bandages as the incisions heal. Thin tubes might be placed under the skin for draining any build-up of excess blood or fluids. You are instructed on what medication to use for healing and how to take care of the treated area during your recovery. A follow-up appointment is arranged.
The stitches are removed within one to two weeks after the upper arm lifting. The skin in the incision area should always be handled gently without exposure to any abrasive motion. Any form of physical strain should be avoided at the beginning stages of your recovery.
Significant swelling is expected in the first 10 to 14 days after the brachioplasty. The results of the upper arm lifting are noticeable immediately after the surgery. Still, you should expect to see the final results only after external and internal healing is complete and the swelling and bruising go down entirely. Scars remaining after the upper arm lifting are permanent but fade over time. It is advised to inquire with your surgeon concerning the period immediately after the brachioplasty and during recovery. You may have questions about where you will be placed after the surgery, what medications you will be given, and when to arrange an appointment for follow-up care.
Results Of Arm Lift Surgery In Turkey
By removing loose skin, an arm lift can give your upper arms a more toned appearance.
Arm lift surgery in Turkey results are typically long lasting. Remember, however, your skin will naturally lose some firmness as you age and some sagging might occur. Maintaining a stable, healthy weight can help you retain your results.
Frequently Asked Questions
Is it safe to have an arm lift surgery in Turkey?
Finding the best surgeons in Turkey for arm lift surgery is very easy, and many people choose to have plastic surgeries in turkey for many years. In addition to that, the health care system in Turkey is very advanced and has strict policy for implementation and audit. If you have any hesitation about getting arm lift surgery in Turkey, you can assure that getting arm lift in turkey is safe. Contact Cayra Clinic in Turkey now to schedule an appointment.
Is an arm lift surgery in Turkey painful?
It's normal to experience some soreness when recovering from an arm lift. Discomfort, edema, and bruises are possible side effects. After several days, this should decrease. An arm lift treatment will require 1 to 2 weeks of recuperation time.
How long does an arm lift surgery in Turkey last?
An arm lift surgery in Turkey produces almost lifelong benefits. However, future skin drooping that may happen as a consequence of aging or extra weight increase cannot be prevented. There will be a natural decrease of stiffness in your arms when the aging process begins or progresses after your operation.
Do arm lift surgery in Turkey's scars fade?
After several weeks, many patients may notice that their arm lift scars are starting to recover. Arm wounds can take weeks or months to become smooth and elastic in some circumstances. The arm incisions should decline over time with careful attention.
How long does arm lift take in Turkey?
Arm lift surgery in Turkey generally takes 1 to 3 hours, and recovery from an arm lift surgery approximately takes 2 or 3 weeks. You must stay in turkey for at least four days after the operation to conduct initial examinations and evaluate the results.
Why Should One Choose Cayra Clinic ?
Turkish clinics are the best alternative for you due to their reasonable prices, pleasant and well-trained medical staff and surgeons. If you are considering any form of cosmetic surgery, including arm lift, you should first find out about clinics in turkey, and then you will agree with us where to go. Furthermore, you will be greeted by nice and friendly people that welcome outsiders in their nations.
Because they see everyone, whether they know them or not, as a visitor from god, you will be able to converse with them even if they do not speak your language.
As a result, if arm-lift surgery in Turkey is something you're considering, you should contact the Cayra Clinic in Turkey now to learn more about the process and the specifics. Cayra Clinic in Turkey have medical centers in both Istanbul and Antalya, Turkey and Cayra Clinic works with the best doctor for each plastic surgery operation for you to have best result and experience in Turkey. Contact us at Cayra Clinic in Turkey now and you will be glad you did!
You can visit our blog page for more information about Strabismus Surgery